Categories:
Other Brands
Presenting the Gucci Soho Disco Bag. The bag first came out in 2012 and has been one of Gucci's hottest bags ever since. The Soho is a compact shoulder bag which features an embossed interlocking G. It comes with a leather tassel zipper pull and has an adjustable shoulder strap. The interior is made of cotton linen lining and includes a phone and open pockets. The bag is lightweight and easy to carry. This is perfect for everyday use as it can fit just the right amount of necessities. It comes in a variety of colors like Black, Beige and Red. Even celebrities are in love with this bag. Selena Gomez, Naomi Watts, Emma Roberts and Amy Adams have all been spotted carrying the Soho Disco Bag.
Style, Price & Size
| Style | Price | Size |
| --- | --- | --- |
| Gucci Soho Disco Bag | $980.00 (USD) | 8″ W x 6″ H x 2.7″ D |
Gallery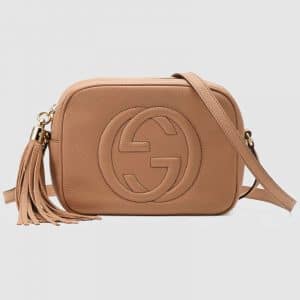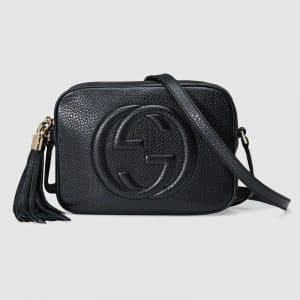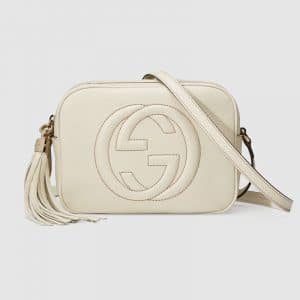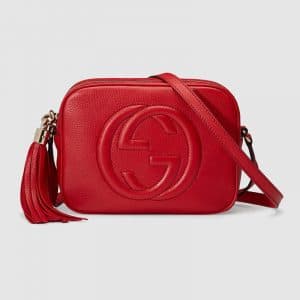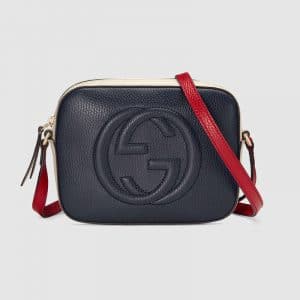 comnum(0) tbcount(0) tbcount(140)
Categories:
Other Brands
There are new bags released by Dior for the Spring Summer 2017 Collection and it's the first-time ever that Dior put a 'Bee' on the lady bags as a signature. You see, the Bee is a Dior Homme Icon, it was created by Hedi Slimane, inspired by the love that Monsieur Dior had for gardening. Now the popularity of the 'Bee' logo has spread to woman's collection.
Dior and insect-inspired-prints like bees, butterflies are nothing new, it's often see on all accessories and clothing. But anyways, here is the latest Dior D-Bee Bags, which are an epitome of what urban chic is all about.
Simple, unassuming, yet elegant in every angle, this Dior collection showcases several tote bags and shoulder bags that look like they can be your next daily go-to bags due to their multi-functionality features.
If you'll notice, there is that bee print on top followed by the embossed CD initials located at the bottom. This is the reason why these bags are called D-Bee. The logo and the name are already a giveaway.
The D-Bee Mini Saddle Bag looks promising with its urban signature design. What we particularly love about this is that the grained leather is perfectly complemented by aged gold-tone metal jewelry. It also comes with a wide adjustable shoulder strap, which comes in handy for shoulder and cross-body carrying.
Now here are the details:
Dior D-Bee Shopper Bag
Size: 33 x 27 x 14 cm
Prices: €2200 euro, £1950 GBP, ₩3,400,000 WON
Dior D-Bee Mini Saddle Bag
Size: 18 x 11.5 x 2.5 cm
Prices: €1700 euro, £1500 GBP, ₩2,600,000 WON
comnum(0) tbcount(0) tbcount(158)
Categories:
Louis Vuitton
My oh my, look at this beauty right here. We've never seen such a gorgeous bag that offers so much space in a long time! Here's the Louis Vuitton Holdall Bag which looks absolutely fantastic in every angle.
Another creation of Louis Vuitton Creative Director Nicolas Ghesquire, this Holdall Bag perfectly embodied and captured the very essence of the Parisian woman. It has an eye catching edgy silhouette and its simple luxurious details are a lesson in effortless elegance. Unfailingly functional, it boasts a generous volume and is super comfortable to carry. Ladies, never be intimidated by its size as it is lightweight!
If you have a keen eye for details, you cannot miss the clever design because you can see extra leather in the interior, which on the top read Louis Vuitton Paris, and can be seen from the outside.
Now let's go to a more detailed look. It features an embossed Veau Satin leather exterior, which is beautifully paired by silver coloured metallic pieces. The contrasting stitching on the other hand offers an added sense of style. It also has a key holder, a stylish nametag with LV metallic signature, and an outside zipped pocket for an added compartment.
Aside from these, it also has 2 Toron handles with padded mounts for comfortable hand or shoulder carrying. Looking inside, it has 2 inside flat pockets to keep your things organized.
It measures 18.1" x 10.2" x 7.5" (L x H x W) inches and is priced $3000 USD, $3800 CAD, $3900 AUD, ¥353160 JPY via Louis Vuitton boutiques.
So this bag is called 'Holdall', do you think it can compete with the iconic 'Neverfull Bag'?
Tags: Louis Vuitton bag Holdall
comnum(0) tbcount(0) tbcount(122)
Categories:
Other Brands
Mulberry hoptop bag inspired by the retro style, this rectangular shaped bag comes with a choice of one color, multi-colored, nor the motives such as zebra or snakeskin. Has been released on 3 January 2017, then Mulberry hopton new bag is available in boutiques is located in the area of Southbank, London. Not only can be enjoyed visually through colors, bag designed by the Creative Director, Johnny Coca, it also presents a three-dimensional effects via the lining in the ' body ' that's his silhouette and boxy bag. If the previous collection bag named Lily, Darley Abbey, and Bayswater which appear with various options, now the Mulberry hoptop bag is the latest collection.
Tags: bag Mulberry 2017 Hopton
comnum(0) tbcount(0) tbcount(96)
Categories:
Other Brands
A new and beautiful Fendi bag is here to conquer the fashion world with its exquisite elegance and simplicity. Ladies, take a good look at this Fendi Flap Shoulder Strap and you might find it hard not to admire and think highly of.
Fendi's modernized design has been lovingly crafted from soft quilted leather and is further complemented with shiny, silver-tone hardware for that needed luxurious sparkle.
This little diva right here is the right amount of glitter you'll be needing when you head out to hang out with your friends on a Saturday afternoon or during your romantic dinner date.
With its detachable chain shoulder strap, you can easily transition it from a clutch to a stylish shoulder bag. Mind you, the clasp in the center is attention grabbing as well!
It also features a magnetic fastening for easy access so you can easily slip your hand to grab your make up essentials for quick touch ups. Looking inside, it has an internal zipped pocked and card slots for effortless organization.
Measuring 4.5" x 7.5" x 1.5" (H x W x D) inches and is priced €890 euro, $8900 HKD, $1590 AUD, 128520 JPY
comnum(0) tbcount(0) tbcount(139)
Categories:
Louis Vuitton
Own a stylish and fashion-forward Louis Vuitton piece and you'll surely be the center of attention. If this idea floats your boat, then the Louis Vuitton Chain It Bag will definitely give you just that.
With its pure lines, this calfskin leathered Chain It Bag is definitely on its way to stardom as it takes its spot of being a new House classic. Its sophisticated and glamorous details such as the faux nautical chain and LV padlock-inspired closure make it one of the most exciting pieces of the season.
Just like its name describe, the main design of this bag is the chain, which has been decorated on the center of the bag. It's crafted with real silver chains, pinch through the leather, connecting to the black chain print. Also, the golden studs next to the black chain print are real. But the most gorgeous part is obvious the classic LV lock
Now let's talk about its bag details. This fashionable stunner features silver coloured metallic pieces to match the calfskin interior. It also has a removable leather strap which is perfect for shoulder or cross-body carrying and a Toron retractable top handle for hand carrying.
If you look inside, it has several compartments such as a zipped pocket and a flat pocket to keep your things in place. Measuring 9.1" x 7.1" x 3.1" (L x H x W) inches, the Monogram Canvas version is priced at £1750 GBP, the Calfskin leather version is priced at £2120 GBP, exclusive available in Louis Vuitton New Bond Street at Harrods.
Tags: Louis Vuitton bag CHAIN-IT
Categories

New Posts

Hot Posts

Tag Cloud